Uber Accident Lawyer in Charlottesville, VA
Charlottesville area residents who use rideshare services such as Uber and Lyft need to know that they are protected after an accident by $1 million of insurance coverage these companies are required to maintain in Virginia. Other drivers in accidents with Uber and Lyft drivers are covered as well if the rideshare driver was at fault.
If you have suffered injuries in an accident involving an Uber driver in Charlotteville, an experienced Uber accident lawyer at Kendall Law Firm can help you seek compensation for medical bills and other losses, including damage to your vehicle in a collision with an Uber vehicle.
At the Kendall Law Firm, we have helped thousands of car accident victims in Charlottesville and the surrounding areas demand just compensation for their losses. Our founding attorney David B. Kendall is a former Judge Advocate General with the U.S. Marine Corps. The Kendall Law Firm is ready to stand up to large companies such as Uber and their insurers on behalf of accident victims in Charlottesville.
Contact the Kendall Law Firm with your questions about an Uber accident. When you engage our firm to handle your Uber car accident case, you pay us no fees until we recover compensation for you.
What Happens If You Are in an Uber Accident?
After an accident involving an Uber driver, there are steps to take to protect your rights and a potential claim for compensation.
You should check yourself, your passengers, and others for injuries. If someone has been injured, phone 911 for emergency medical help. Cooperate with emergency responders if you have been injured.
If you do not go directly to the emergency room, see a doctor within 24 hours. There are serious injuries common in car accidents that do not show significant symptoms right away, including potentially fatal head wounds. Seeing a doctor ensures you receive medical care and documents your injury for a potential claim.
You should:
Contact police. Police will gather information about the accident and make it available in their report. Ask how to get a copy of the report and get one as soon as possible.
Exchange information. Get names and contact information for others involved in the accident, including drivers, passengers, and witnesses.
Document the accident. Take photos of the vehicles, their damage, debris on the road, and anything at the scene that may have contributed to the accident.
Be wary of quick settlement offers. Uber or their insurer may contact you after an accident if you were badly injured. You are not obligated to speak with them. They may offer you a cash settlement that appears to be generous. You should consult with an attorney before accepting any settlement or signing anything presented by a rideshare company or its insurer.
Contact a car accident lawyer. Our uber accident law firm can handle all aspects of your claim after an Uber accident. In addition to gathering evidence of Uber's liability, an attorney can use your medical bills and anticipated future medical expenses to calculate the full extent of your costs and losses.
What All Uber Passengers in Virginia Need to Know
Virginia's lawmakers have adopted new laws since rideshare services have become popular to ensure companies such as Uber can be held accountable when their drivers cause car accidents. Virginia has set several legal requirements for rideshare companies, also known as transportation network companies, to operate in the state.
Uber and similar companies must maintain $1 million worth of insurance coverage for their drivers, or "partners," in the form of:
Liability insurance, which pays out if the Uber driver is responsible for someone else's death, injury, or property damage.
Uninsured motorist coverage, which pays Uber passengers or drivers if they are injured in an accident caused by a driver with no insurance.
Underinsured motorist coverage, which may cover bodily injury, death, or property damage of an Uber passenger or driver if costs remain after the insurance held by the at-fault driver in an accident has been exhausted.
Each of the policies applies from the moment an Uber driver accepts a ride request on the Uber app until the ride is complete.
After an accident, companies like Uber typically try to point injured passengers and others to their drivers' personal liability insurance as the first source of compensation to satisfy their claims. But Virginia law says liability coverage held by the company is primary insurance in a claim.
If the driver had not yet logged into the Uber app or had logged off when the crash occurred, the company could argue that the driver was not working. In such a case, the driver's personal auto liability insurance would cover their responsibility for an accident. Virginia requires liability policies effective Jan. 1, 2022, through December 31, 2024, to provide coverage of at least:
$30,000 for one person's injury or death
$60,000 for injury or death of two or more people
$20,000 for property damage.
Therefore, if you were injured in an Uber accident, you would want to be able to demonstrate to the satisfaction of insurers or a court that the Uber driver was actively engaged with passengers or the app at the time of the crash.
Obtaining Compensation in a Charlottesville Uber Accident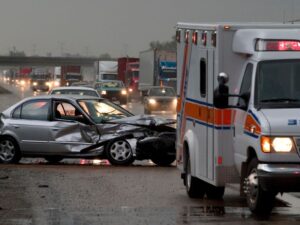 In Virginia, to obtain compensation from another party after a car accident, you must show that they bear full responsibility for the accident and your injuries. Virginia follows a legal doctrine known as pure contributory negligence, which says that if you contributed in any way to your injury, others involved in the accident are not obligated to compensate you.
This is another reason to speak to an experienced lawyer as soon as possible after an Uber accident. If you have suffered serious injuries, insurers for Uber will look to exploit Virginia's tough negligence standards and avoid a payout on your claim.
As your attorneys, we would investigate to determine who was at fault and gather evidence to support your claim.
How Long Do I Have to File an Uber Accident Claim?
Under Virginia's statute of limitations for personal injury claims, you have two years from the date of the accident to file a claim in court. That is not as much time as it may seem. We must wait for you to recover to know the full compensation you are due.
It is better to start work on a car accident claim as soon as possible. A prompt investigation is more likely to find evidence before it degrades or otherwise disappears.
Contact a Charlottesville Uber Accident Lawyer Today
If you have been injured in an Uber, Lyft, or other rideshare car accident in Charlottesville, VA, area that was caused by someone else, contact an experienced Charlottesville uber accident lawyer to discuss your potential for recovering compensation. The Kendall Law Firm can provide a straightforward assessment of your case and discuss the compensation you may be eligible to seek during a free consultation.
Our main office is located in Charlottesville. If you are in the hospital because of your injuries, our attorney can visit you there. Contact us today for your free case evaluation.