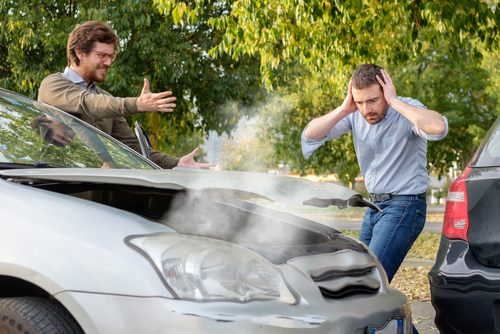 When a car accident happens, it can be a disruptive and traumatic experience. It's common to be shaken up and need time to regain your composure. If you are not too badly injured, it is important to center yourself quickly and take steps to protect your legal rights after a car accident.
If someone else has caused a car accident and you sustained significant injuries, you may be entitled to seek compensation for your medical bills, lost income, other costs, and losses.
Below are some ways you can make a potential car accident insurance claim stronger if you do get in a car accident.
What To Do After A Car Accident In Virginia To Build A Strong Case In Your Favor
Virginia law (§ 46.2-894) requires you to stop after any car accident and report it to police if you are not too badly injured to do so. You must give police and the other driver your:
Name
Address
Driver's license number
Vehicle registration number.
The law also requires providing "reasonable assistance" to anyone injured in a car accident, including taking them to a doctor or hospital "if it is apparent that medical treatment is necessary" or they ask you to. In most cases, it is appropriate to phone 911 and request an ambulance.
If you are injured and cannot report a car accident to police right away, the law calls on you to do so "as soon as reasonably possible."
Here are 7 steps to take to protect your right to compensation for auto accident injuries and other losses
1. You need to take a calm, businesslike approach to deal with a car accident and its aftermath
Do not make accusations about the other driver or drivers and do not at any point suggest that you were at fault and assume blame, the fault will be properly determined as the case goes on. Virginia law follows the doctrine of pure contributory negligence, under which you may be barred from recovering any damages if you are found to be even 1 percent at fault for an accident. When the police arrive at the accident scene, answer their questions honestly but do not volunteer information or accept or cast blame. After an accident, do not discuss it on social media or post information that may be used against you in a disputed claim, such as photos that indicate you have not been injured or comments that may suggest you caused the crash.
2. Document the accident
Photograph the cars and the crash scene, including vehicle damage, skid marks, broken glass, and any road or weather conditions that may have contributed to the crash. Get photos of any visible injuries. Write down or get an audio recording of names and contact information for everyone involved in the accident as well as any other witnesses. Later on, at home or in the hospital, write down how the car crash happened.
3. Contact your insurance company
You have to report the accident to your auto insurance company to initiate a claim and should do so within 24 hours of a crash. Follow the company's instructions about filing a claim and obtaining repair estimates. Be careful if you discuss the accident with insurance company personnel. They will use anything they can get from you to reduce the value of your claim or deny it altogether. Don't say anything that implies fault and do not downplay your injuries. If you hear from the other driver's insurance carrier, refer them to your company.
4. Be wary of an early settlement offer
Sometimes an insurance company will offer what looks like a generous settlement soon after you file a claim. However, if you have suffered serious injuries, any settlement offer made before the actual extent of losses can be known is likely to leave you with a lot of unpaid expenses. The insurer bases the offer on the cost of similar claims and what they expect you to accept. You should have an experienced car accident attorney review the offer and discuss whether it is reasonable before accepting it or signing anything.
5. See a doctor
If you did not go to the hospital from the accident scene, see a doctor within 24 hours of the accident. There are serious injuries that may only exhibit symptoms hours after an accident, including potentially serious head injuries. Seeing a doctor documents your injuries and treatment, which is necessary if you are to recover your medical expenses. Always follow all doctors' orders.
6. Keep an accident folder
Save all records related to your accident and its effect on your life. Keep medical reports, copies of prescriptions, bills, records and receipts about car repairs. Save receipts for any other expenses you have because of the accident, such as having to rent a car or hire someone to do household work for you. Keep correspondence or records regarding missed work. Keep a journal of your recovery, including progress and setbacks, activities or occasions you missed because of your injuries, and how the injuries have affected your life.
7. Contact an auto accident attorney
The best way to obtain the insurance settlement you deserve after a car accident in Virginia is to engage an auto accident lawyer experienced with Virginia insurance and personal injury law. Virginia's reliance on contributory negligence gives insurance companies the advantage in accident claims. A car accident attorney can handle the legwork of a claim and allow you to focus on your medical care and recovery.
Contact a Car Accident Attorney in Virginia – Kendall Law Firm
If you have been injured in a car accident in Virginia caused by someone else's careless or reckless driving, take advantage of Kendall Law Firm's offer of a free, no-strings-attached case evaluation. We can provide a clear and straightforward assessment of your case and what compensation you may be able to recover, as well as advise you of steps you may need to take to protect your rights.
The personal injury lawyers have helped thousands of injured car accident victims in Winchester, Harrisonburg, Charlottesville and across Virginia obtain proper insurance settlements.
Our main office is located in Charlottesville, and we regularly meet with clients at offices in Winchester, Harrisonburg, and Woodstock. If you are in the hospital because of your injuries, our attorney can visit you there. Contact us today to schedule an appointment.