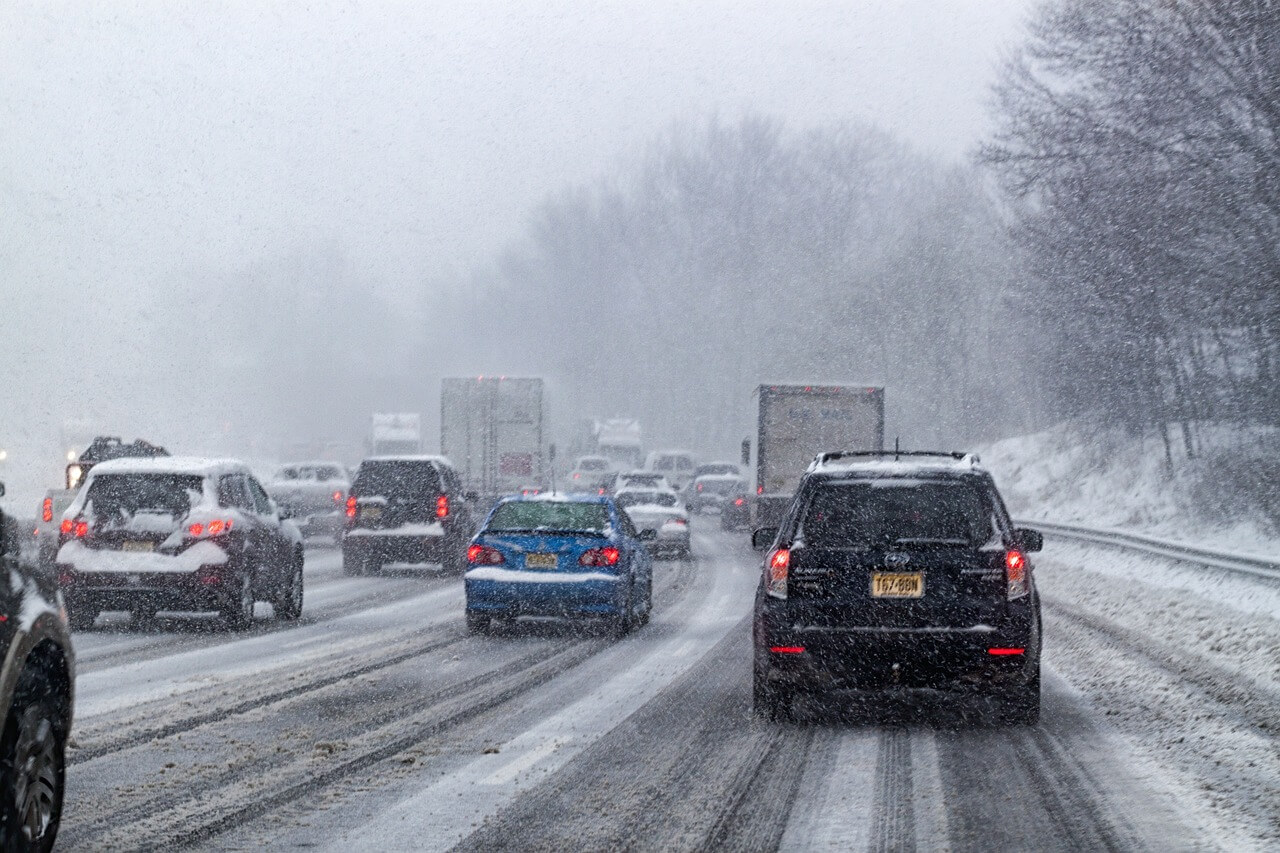 The winter holidays are among the most dangerous times to be on the road. Besides the increased risk of car accidents caused by intoxicated drivers around the holidays, inclement winter weather can make the roads of central Virginia themselves treacherous.
The Virginia Department of Transportation (VDOT) says 70 percent of snow-related deaths occur in automobile accidents. A review of federal statistics from 2011-2015 by ValuePenguin and LendingTree shows about 250 fatal car accidents a year on each of the three major winter holidays: Thanksgiving weekend, Christmas and New Year's. Many of those crashes were preventable.
As we head into the 2019 winter holidays, Kendall Law Firm has some tips on winter driving, including driving in snow and driving on icy roads.
Be Prepared for Safe Winter Driving
The VDOT budgets $250 million for mitigating winter road hazards across Virginia. The agency said in a recent news release that it is important to monitor weather forecasts and have a winter weather driving plan this time of year.
When inclement weather arrives, 511virginia.org provides up-to-date information about road and traffic conditions that drivers can consult before travel. The information is available by calling 511, as well. You can also keep up with the impact of winter weather by listening to local radio and TV weather forecasts, monitoring social media and/or signing up for text alerts from your local government.
VDOT's first rule of winter travel is to stay off the roads when it snows unless travel is necessary for a health or safety emergency.
What you should know if you must travel when snow or icy weather threatens:
Know the current road conditions and the latest weather forecast. Weather changes quickly and forecasts are not always accurate. Be prepared for the worst.
Make sure your vehicle is ready for winter. Check your:

Brakes and tires
Battery and ignition system
Antifreeze and thermostat
Windshield wipers and de-icing washer fluid
Headlights, tail and brake lights, blinkers and emergency flashers
Exhaust system, heater, and defroster
Oil

Leave a few minutes early.
Don't pass a salt/sand spreader unless it is absolutely necessary. Treat them as you would emergency-response vehicles.
If you regularly travel during the winter, prepare a winter storm emergency kit for your car. It should include:
Cell phone charger
Ice scraper
Extra clothing for warmth
Blankets/sleeping bags
Flashlight and batteries kept separate
NOAA weather radio (batteries kept separate)
Jumper cables
Knife or multitool
First-aid kit
High calorie, non-perishable food
Water
A smaller can and waterproof matches to melt snow for drinking water
Sack of sand (or cat litter) to put under tires and create traction
For more information, see the VDOT's winter driving safety tips, including how to survive being stuck in the snow.
How to Drive on Snowy Icy Roads
If you must drive when you know that winter weather conditions have made the roads of Charlottesville and the Shenandoah Valley slippery:
Start out slowly in the lowest gear recommended by your vehicle's manufacturer
Decrease your speed
Turn on your lights
Don't use cruise control or overdrive
Keep a safe following distance of at least five seconds behind other vehicles
Brake gently. Begin braking early as you approach intersections
Be on the lookout for stalled or abandoned vehicles in and beside the roadway.
Watch for slick spots, especially under bridges, on overpasses and in shaded spots
Allow yourself extra travel time
Stay in the right-hand lane except when passing
Steer with smooth and precise movements to prevent skidding
If you start to slide, ease off the gas pedal or brakes. Steer into the direction of the skid until you regain traction, then straighten your vehicle.
Stay back from snowplows and don't pass unless it is absolutely necessary.
Winter Holidays and Safe Driving
There are typically more crashes during holiday periods than non-holiday periods because of increased traffic on the highways, more alcohol use, and excessive speed.
On New Year's Eve over the five years studied in the ValuePenguin/LendingTree Survey, 38.5% of all accidents that occurred were drunk driving accidents. On Thanksgiving weekend, it was 34.7% and on Christmas, drunk driving accidents accounted for 30.7% of all crashes. On any three "normal" days of the year, 29.2% percent of accidents would have been attributed to drunk driving.
Drivers who celebrate holidays and other special occasions by drinking alcohol should avoid driving after drinking. They should have a designated driver in their group who will stay sober and handle all driving chores. Otherwise, consider public transportation, such as a Charlottesville Area Transit (CAT) bus, a taxi or a ridesharing service.
It is important to avoid driving when you have become fatigued from late-night socializing, or after holiday eating and drinking has had a sedative effect. According to the National Highway Traffic Safety Administration (NHTSA), being fatigued or drowsy while behind the wheel:
Makes you less able to pay attention to the road
Adversely affects your ability to make good decisions
Slows reaction time if you have to brake or steer suddenly.
Not getting enough rest before driving can be as dangerous as drunk, drugged or distracted driving. Constant yawning, head nodding, heavy eyelids, difficulty remembering the last few miles driven, missing road signs or exits, unplanned lane changes, driving off the road or hitting rumble strips are all signs of drowsy driving.
Attorney for Holiday Accident Victims
Drivers who disregard the need to slow down in inclement weather or get behind the wheel while intoxicated can be held accountable if their negligence harms others. If you have been injured by another driver's carelessness or disregard for safety, talk to a Virginia car accident at Kendall Law Firm. The injury attorney of Kendall Law Firm works with accident victims to help them seek compensation from the parties responsible for their injuries.
If you find yourself injured in a car accident someone else has caused, contact Kendall Law Firm for a free discussion of legal options in your case. We serve clients in Winchester, Charlottesville, Harrisonburg, Woodstock and Staunton, Virginia.