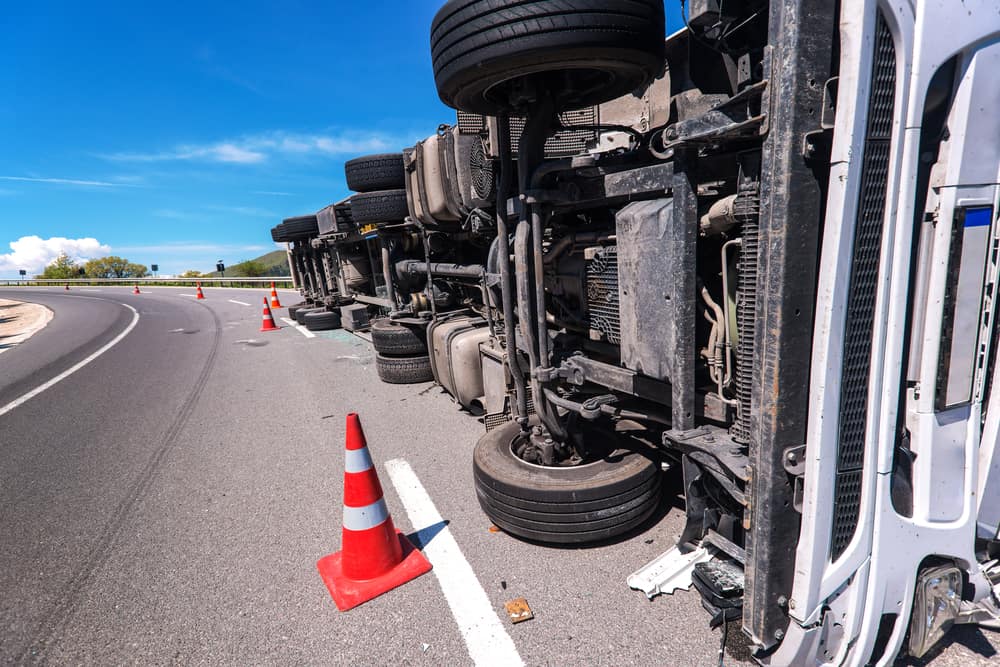 Although many people may not realize it, truck drivers face a substantial risk every time they get behind the wheel of a big rig, semi-trailer or other commercial truck. Due to the size of a large truck, the speed at which it travels, the weight of the loads carried and countless other factors, the potential for a serious or fatal truck accident is high. A combination of tight deadlines, busy interstate highways and roads, extended driving periods and poor weather can lead to a deadly truck accident.
According to the National Highway Traffic Safety Administration (NHTSA), 3,964 people lost their lives and another 95,000 sustained injury in trucking accidents in 2013. Of those who suffered fatal truck collision injuries, 71 percent were occupants of involved passenger vehicles and 17 percent were truck drivers or truck occupants. The remaining fatalities were non-occupants, such as bicyclists or pedestrians. Non-fatal injuries were sustained by passenger vehicle occupants 72 percent of the time, truck occupants 25 percent of the time and non-occupants two percent of the time.
In the state of Virginia, 10 percent of the fatal motor vehicle accidents in 2013 involved large trucks. This works out to a rate of 2.6, which fortunately is below the national average of 8.7 percent.
Where and When Truck Accidents Happen
While urban settings may seem like a dangerous place for truckers to drive, it is in rural locations where the large majority of truck accidents happen. In fatal collisions involving large trucks, 64 percent occur in rural areas and 36 percent in urban areas.
Weekdays have proven to be more deadly for trucking accidents than during the weekends, due in part to the fact that most truck drivers have daily routes during the week, and deadlines which must be met. Among truck accident fatalities in 2013, 79 percent occurred on weekdays, with 73 percent of those during daytime hours. Nighttime hours were not as risky during the week; however, among the fatal truck accidents that occur on weekends, 60 percent take place at night between the hours of 6:00 p.m. and 5:59 a.m.
Factors Which Can Contribute to Trucking Accidents
Road conditions, weather, driver fatigue and careless driving behaviors are a few of the reasons truck accidents occur. The following are other factors which can contribute to trucking accidents and result in serious or fatal personal injuries:
Truck driver fatigue: Drivers who are ordered to violate Hours of Service (HOS) rules or who do so in an effort to meet unreasonable deadlines are putting themselves and others at risk. Truck driver fatigue can easily set in when a trucker is unable to get sufficient rest.
Unsafetrucks.org reports the main reasons a truck driver may begin to feel fatigued while behind the wheel include:
Long driving hours
Driving at night
Irregular hours
Tight schedules
Inadequate rest
Accumulated lack of sleep over time
Poor driving conditions
Overexertion
Violations of Hours-of-Service (HOS) rules and other Federal Motor Carrier Safety Administration (FMCSA) regulations: According to the FMCSA, truck drivers are only permitted to drive for 11 hours before taking 10 consecutive hours off-duty.
Distracted driving: As with any motorist, truck drivers who allow themselves to become distracted while driving face a much higher risk of accident and injury. Talking on a cell phone, texting, using vehicle navigation systems, eating, watching videos and daydreaming are only a few of the distractions which could lead to a truck driver getting in a serious or fatal trucking accident.
Alcohol or drug use: Truck drivers should not use alcohol or take drugs when they are scheduled to drive. Even the use of over-the-counter or prescription drugs could hinder a trucker's ability and make it difficult to maintain control of the truck or take emergency action to avoid a potential collision. The good news is that in one recent year only two percent of large truck drivers were found to have had a BAC of 0.08 or higher following a fatal collision.
Speeding or reckless driving behavior: Truck drivers must adhere to posted speed limit signs and cannot engage in dangerous or reckless driving behavior. These behaviors can make it far more difficult to stop in time to avoid an accident or take evasive action without jackknifing, rolling over or starting a chain-reaction collision. Speeding is a common factor in truck crashes. Among truck drivers involved in fatal collisions during 2013, 17 percent were found to have prior speeding convictions.
Contact the Charlottesville Trucking Accident Law Firm
If you or a loved one has been injured in a trucking accident in Charlottesville, Harrisonburg, or anywhere else throughout the state of Virginia, contact Kendall Law Firm now. Our founding attorney has more than two decades of experience in personal injury law and has an extensive record of successful cases.
We understand the devastation trucking accidents cause, and are dedicated to providing our clients with aggressive representation they need to go up against trucking companies, insurance companies and corporate defense lawyers. Accident victims and their families can rest assured we will be unrelenting in our pursuit of justice and full compensation.
Sources: