Rear-end Collision Attorney in Harrisonburg, VA
Have you been injured in a rear-end collision in Harrisonburg, Virginia? Rear-end crashes are one of the most common types of accidents on American roads.
According to the National Transportation Safety Board (NTSB), nearly half of all two-vehicle crashes in the U.S. are rear-end accidents. These collisions may cause serious injuries or fatal injuries. More than 7 percent of all fatal wrecks are rear-end crashes, according to the Insurance Information Institute.
At Kendall Law Firm, our Harrisonburg car accident lawyers understand that the aftermath of many rear-end accidents can be painful and expensive. You may have significant medical bills through no fault of your own and be out of work for a lengthy period of time.
Our Harrisonburg injury attorneys can help you pursue a claim against the at-fault driver and seek full compensation for your medical bills and other losses. Call us today at (866) 590-9773 or contact us online to learn more in a free initial consultation.
Who Is at Fault After a Rear-End Accident in Harrisonburg, VA?
Many people assume that a driver who hits the rear end of the vehicle in front is always at fault in a rear-end crash. That is generally true, but there are exceptions.
Drivers are expected to maintain safe following distances and remain alert and in control of their vehicles at all times. Drivers should allow enough time and distance to stop and avoid rear-ending other vehicles.
However, unexpected events sometimes happen. Depending on the specific facts of a collision, any of the following may be partially or fully liable for a rear-end accident in Harrisonburg, VA:
The following driver – A following driver may be at fault in a rear-end crash if the driver struck another vehicle because they were distracted, fatigued, impaired, following too closely, or otherwise negligent.
The leading driver – A leading driver may be at fault for a rear-end collision if the driver stopped unexpectedly in an active traffic lane, cut off another driver while changing lanes, or was driving without brake lights.
Other road users – Another road user, such as a pedestrian, cyclist, or even a third motorist, can also be at fault in a rear-end wreck. For example, a pedestrian could be at fault if the person on foot darted into the road and forced a driver to slam on the brakes right in front of another vehicle.
Car parts manufacturers – If a defective car part contributes to a rear-end crash, the manufacturer of the defective component may be at fault.
Local government agencies – If poor road conditions contribute to a rear-end accident, the local government agency in charge of maintaining the road may bear some responsibility.
Common Injuries in Rear-End Car Accidents
Although rear-end car accidents are commonly seen as minor fender benders, many of these collisions can result in serious injuries, such as:
Traumatic brain injuries
Neck, back, and shoulder injuries
Spinal cord injuries
Partial or total paralysis
Soft tissue strains, sprains, and tears
Bruises, burns, and lacerations
Fractured or dislocated bones
Facial injuries and dental trauma
Permanent scarring and disfigurement
Post-traumatic stress disorder (PTSD)
Wrongful death
Causes of Rear-End Collisions
Some of the most common causes of rear-end accidents in Harrisonburg, VA include:
Distracted driving – When drivers are focused on text messages, phone conversations, or other distractions, they are less likely to recognize changes in traffic flow, such as other vehicles slowing or stopping ahead. Drivers who are not paying adequate attention to the road are especially likely to cause rear-end collisions.
Driving under the influence – Drivers who are under the influence of alcohol or other impairing substances, tend to have impaired depth perception and slowed reaction time. When drivers are drunk or driving while high, they are significantly more likely to crash into other vehicles ahead of them.
Fatigued driving – Drivers who are drowsy and struggling to stay awake are more likely to cause rear-end collisions. According to the Centers for Disease Control and Prevention (CDC), the cognitive effects of 24 hours of sleep deprivation are equivalent to the effects of being legally intoxicated. Fatigue increases a driver's risk of causing a rear-end accident due to inattention and impaired judgment and reactions.
Reckless driving – Drivers who engage in reckless behaviors such as speeding, tailgating, and lane weaving are significantly more likely to cause rear-end accidents. Reckless driving gives drivers less time and distance to react to traffic hazards, increasing the risk of rear-end collisions.
Defective car parts – If vehicle components are not properly manufactured and adequately maintained, they can fail and contribute to loss of driver control. When important parts such as brakes or tires fail, drivers may crash into the rear ends of other vehicles.
What to Do After a Rear-End Car Accident?
Rear-end accidents are common, but being involved in a crash can feel shocking and disorienting. If you're not sure what to do after a rear-end car accident in Harrisonburg, here are some steps you can take to protect your legal rights and your ability to recover:
Seek medical attention immediately, even if you don't think you are injured. A thorough medical exam can ensure that your injuries are diagnosed, treated, and added to your medical record.
Follow your doctor's prescribed care plan and attend all follow-up appointments to demonstrate that you are taking your health seriously.
Gather as much evidence as possible from the accident scene. Ask the other driver for their vehicle, contact, and insurance information, take photos of the accident scene and ask eyewitnesses for statements and contact details.
Keep track of accident-related documents such as medical bills, vehicle repair estimates, pay stubs, and receipts from incidental expenses.
Watch what you say to others about the accident and never agree to give a recorded statement to an insurance company without consulting an attorney first. Avoid posting photos of the accident or sharing information on social media while your case is pending.
Contact a knowledgeable rear-end car accident lawyer as soon as possible. An attorney can investigate the crash, determine who was at fault, and help you pursue compensation for your losses.
Settlement for a Rear-end Car Collision
Every crash has unique facts, so there is no average settlement for a rear-end car accident. If you have been injured in a Harrisonburg rear-end collision, multiple factors will determine the value of your claim such as your:
Medical bills – Any medical expenses you incur for accident-related injuries, including bills from ambulance services, hospitals, clinics, and doctor's offices.
Incidental costs – Incidental expenses you incur as a result of the crash, such as the costs of traveling to and from doctor's appointments.
Lost wages – The value of any losses in your take-home pay during the time you missed at work while recovering from your injuries.
Future losses – The estimated value of future losses, such as medical care you will likely need in the future or projected losses in your future earning capacity as a result of your injuries.
Pain and suffering – The intangible value of the physical pain and psychological suffering you endure as a result of the accident and your crash-related injuries.
Vehicle repairs – The costs of repairing vehicle damage caused by the accident or replacing a totaled vehicle.
Recent Rear-End Car Accidents Near Harrisonburg, VA
Many rear-end car accidents occur in Harrisonburg and throughout the Shenandoah Valley. The following news stories describe two such wrecks that tragically resulted in fatalities.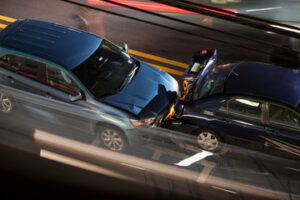 On the evening of October 7, 2021, state police responded to a rear-end crash that occurred along southbound I-81 in Rockingham County. According to reports, multiple vehicles were stopped in heavy traffic when the driver of a 2006 Buick Lucerne collided with the rear end of a 2010 Honda CRV. The Honda, which had stopped due to traffic, was subsequently pushed forward into the back of a 2017 Chevrolet Silverado, which was also stopped at the time.
As a result of the multi-car rear-end crash, the Honda caught fire. The driver of the Honda, a 23-year-old woman from nearby Chesterfield, was fatally injured and later pronounced dead at the scene. The driver of the Chevrolet was unharmed, but the driver of the Buick, a 22-year-old man from Harrisonburg, required treatment for minor injuries at a local hospital.
At approximately 6 p.m. on Christmas Eve in 2021, a tractor-trailer traveling near Rockfish River Road in Nelson County rear-ended a Honda Odyssey when the Honda driver stopped abruptly after colliding with a deer. According to Virginia State Police, all five occupants of the Honda minivan and the tractor-trailer driver sustained injuries in the crash.
The truck driver suffered only minor injuries that were treated at the scene, but each occupant of the minivan was transported to a nearby hospital to be treated for more serious injuries. One four-year-old boy sustained severe injuries, and an eight-year-old girl sustained fatal injuries.
Contact Our Experienced Harrisonburg Rear-end Car Accident Lawyers
An experienced attorney at Kendall Law Firm can help you understand your Iegal options if you have been injured in a rear-end accident in Harrisonburg, VA. Our dedicated lawyers have more than 30 years of experience fighting to help injured people rebuild their lives and move forward after serious injuries.
Call us today or fill out our online contact form to get started with your free initial case review.