Dog Bite Lawyer in Harrisonburg, VA
Dog attacks injure millions of adults and children across the United States every year. Dog attacks can be terrifying and traumatic. They can result in costly medical expenses, time away from work, and other significant losses.
If you or a family member has been bitten by a dog in the Shenandoah Valley, you may be entitled to seek compensation. To learn more, call Kendall Law Firm at (866) 590-9773 or contact us online for a free consultation with an experienced Harrisonburg dog bite lawyer.
Virginia Dog Bite Statistics
According to the Virginia Department of Health and a recent study published in a peer-reviewed medical journal:
More than 4.7 million people sustain dog bite injuries in the U.S. each year.
Dog bites are among the 15 most common causes of non-fatal injuries and a leading cause of homeowner's insurance claims.
Each year, roughly 337,000 people require emergency department care for dog bite injuries.
Nearly half of dog bite injuries affect the upper extremities and a fourth of dog bite injuries involve the head and/or neck.
Younger dog bite victims are more likely to suffer injuries to the head and/or neck. Older victims tend to suffer injuries to their upper extremities.
More than 80 percent of dog bite injuries occur in the home.
Collectively, dog bite injuries are conservatively estimated to cost at least $400 million per year in the U.S. alone.
Virginia Dog Bite Laws
The Code of Virginia §3.2-6540 establishes state laws concerning dangerous dogs. But in practice, the laws that apply to Virginia dog bite cases are largely derived from case law rather than any statute.
Like many states, Virginia follows a one-bite rule for dog bite injury cases. Under the one-bite rule, dog bite victims may hold dog owners liable for their injuries if they can demonstrate that either:
The dog owner knew the dog was dangerous or had a tendency to be aggressive
The dog owner should have known the dog could be dangerous or aggressive
What exactly constitutes a dangerous dog? Virginia law defines a dangerous dog as one that has:
Killed a companion animal such as another dog or cat
Caused a companion animal serious injury, such as an injury that resulted in the impairment of health or body function, required medical attention, or was more serious than "a strain or sprain"
Caused a person serious injuries, such as lacerations, broken bones, or substantial puncture wounds
Common Dog Bite Injuries
Here are some of the most common types of injuries our attorneys see in the Virginia dog bite cases we handle:
Broken, torn, or punctured skin
Fractured or dislocated bones
Face and eye injuries
Head and neck injuries
Crushing injuries
Scarring and disfigurement
Nerve and tissue damage
Bacterial or viral infections
Post-traumatic stress disorder (PTSD)
Other emotional and mental injuries
Dog Bite Injury Compensation Amounts
Every dog bite case is in some ways unique. Depending on the specifics of your situation, you may be entitled to seek compensation for:
Current and future medical expenses related to your injuries
Lost wages from any time you missed at work while recovering from your injuries
Projected losses in your future earning potential if you are seriously disabled
The intangible costs of your pain, suffering, and lost quality of life
Repair or replacement costs for property damage from the incident
Elements To Prove After a Dog Bite in Harrisonburg, VA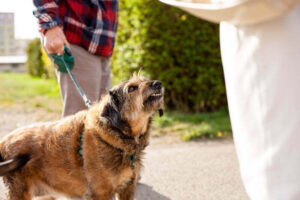 If you have been injured by a dog in Harrisonburg, VA, you may be entitled to claim compensation for your medical expenses, lost wages, and other injury-related losses. If the dog that bit you was previously designated as a dangerous animal or had a propensity to be aggressive, the dog owner may be held financially liable for your injuries.
You may file a claim against their homeowner's or renter's insurance policy and demand compensation once you know the full cost of your medical expenses and other losses related to the dog attack.
However, if the dog had no record of aggressive behavior, you will need to supply proof of the owner's negligence to claim compensation.
Negligence is the failure of the dog owner to behave with a reasonable level of care given the circumstances. In a dog bite case, a dog owner may be considered negligent if he or she knew or should have known that a dog had aggressive tendencies yet failed to keep the dog under control.
Under Virginia law, all dog owners are required to take reasonable care to restrain and control their dogs, whether or not the dog is known to be dangerous. Many cities and towns in Virginia have leash laws or other local ordinances that impose additional restrictions on pet owners.
If you can demonstrate that a dog's owner violated local leash laws by failing to restrain the dog and you suffered a dog bite as a result, you may be able to demand compensation.
An insurance company may contend that you provoked the dog to bite you or ignore warnings that the dog was dangerous. A Harrisonburg dog bite attorney can aggressively challenge attempts by insurance companies to shift the blame and avoid financial liability.
Time Limits for Dog Bite Injury Lawsuits in Virginia
Virginia's statute of limitations gives you two years to file most personal injury lawsuits, including dog bite injury lawsuits. This two-year time limit begins on the date that the injury occurred.
If you fail to file a lawsuit before the two-year deadline, the court will likely dismiss your case, and you will lose your right to seek compensation. It's so important to contact a knowledgeable attorney as soon after the attack as possible.
Contact Our Harrisonburg Attorneys to Help You with a Dog Bite Claim
If you or a loved one has been attacked by a dog in Rockingham County and you are wondering about your legal options to seek justice, the Harrisonburg dog bite lawyers at Kendall Law Firm are here to help. We can handle every aspect of your legal case while you focus on your health. Call us today at (866) 590-9773 or contact us online to get started with your free initial case review.