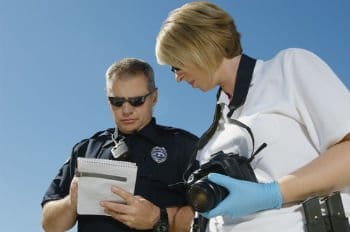 Any time you are the driver of a car involved in an accident in Virginia that injures someone or damages property, you are required to report the accident to state or local police and, when possible, to the person injured in the accident.
Virginia law outlines the duties drivers have to report car accidents. It is important to understand that a police report is necessary if you are to file a claim and obtain an insurance payment for personal injury or property damage sustained in a car accident.
Our experienced car accident lawyer at the Kendall Law Firm has helped thousands of car accident victims in Winchester, Harrisonburg, Charlottesville and other areas of Virginia obtain insurance settlements after motor vehicle accidents. Reporting the incident to the police is the first step toward achieving a satisfactory resolution after a car accident.
When Do I Have to Report a Car Accident?
Virginia law (§ 46.2-894 and § 46.2-896) requires drivers to report a car accident to police if:
A person is killed or injured.
A vehicle or other property is damaged.
An unattended vehicle or other unattended property is damaged.
After an accident, a driver is required to stop immediately as close to the scene of the accident as possible without obstructing traffic. Then he or she is to contact state or local police, and be prepared to give the responding officer the following information:
Name
Address
Driver's license number
Vehicle registration number.
Drivers are to give this information to others involved in the accident as well, as long as the injury doesn't make a crash victim incapable of receiving and understanding the information. In such a case, a driver should give the information to another occupant of the vehicle.
If a driver is injured and cannot report a car accident to police immediately, he or she is to do so as soon as reasonably possible. A driver is also to make a reasonable effort, once he or she is able, to locate the driver or some other occupant of the vehicle involved in the accident.
Virginia law also requires providing reasonable assistance to anyone injured in a car accident, including taking them to a doctor or hospital "if it is apparent that medical treatment is necessary" or the injured person asks them to do so.
Reports Due Within 24 Hours of Car Accidents
If a driver damages a car or other property and the owner or "custodian" is not present, the driver is to leave a note or other sufficient information, including driver identification and contact information, in a conspicuous place at the scene of the accident, and report the accident in writing within 24 hours to state or local police.
Another Virginia law (§ 46.2-895) requires anyone who is 16 years old or older to report a hit-and-run accident caused by the driver of a car they were in. Within 24 hours of the accident, they are to give state or local police the driver's name, address and, if by chance they have it, driver's license number and vehicle registration number.
Is it Illegal to Not Report a Car Accident?
Yes, it is against the law to fail to comply with the accident reporting requirement. Not reporting a car accident as required by Virginia law is punishable by up to a year in jail or a $2,500 fine, or both.
Why and How to Make Sure a Car Accident Report is On File
Virginia law addresses contacting law enforcement to report car accidents. In most cases of injury or substantial property damages, police will respond to a car crash scene and file their investigative reports. They may arrest someone involved in the accident, such as a drunk driver, or issue a ticket if one driver is clearly at fault.
In such a case, there will be a police record of the accident. This is good, because if you file an insurance claim, your insurer ­and the other driver's insurer will require an official accident report for a claim to proceed.
After a car crash in Winchester or elsewhere in Virginia, you can file an accident report with the Virginia Department of Motor Vehicles. The DMV maintains the official record of all reportable crashes occurring within the Commonwealth.
Make a report to ensure your accident is documented by submitting an accident report (downloadable at FR200), along with the Information Request Form (CRD-93), by which you can obtain a copy of the police report. This costs $8.
Submit a report:
By mail with a check or money order to:
Customer Records Work Center, Room 514
Virginia Department of Motor Vehicles
PO Box 27412
Richmond, VA 23269
By fax at (804) 367-0390. A completed "License, ID Card and Records Payment Authorization" (form DMS 004) must also be submitted.
At a customer service center, such as at 4050 Valley Pike, Winchester, VA. Payment can be made with cash or a check, money order or credit card.
If your car accident occurred in Winchester and Winchester police responded, you may obtain a copy of the report for a fee through CrashDocs and its Winchester Police Department portal.
Seeking an Insurance Settlement after a Car Accident
Once you have submitted a car crash report to the Virginia DMV and obtained the police report about your car accident, you are set to pursue an insurance claim.
If the other driver caused the car accident, you should be able to obtain compensation for your losses through the driver's liability insurance coverage. To do so, you will need to be able to demonstrate the other driver's responsibility for the crash.
Assuming driver responsibility is not in question, you may find that the insurance company is ready to settle your claim quickly. This can go either way: the company may offer what seems like a good settlement or it may offer what is obviously a low settlement or no settlement at all.
We often find that even a car accident settlement that looks good to a client is not as much as a car accident victim truly deserves. In other cases, an insurer is unresponsive and drags a claim out, sometimes in hope that a badly injured driver will go away.
Insurance companies don't really have your best interests at heart. They are in business to make a profit, and part of the job of accident claims adjustors is to minimize the amount the company pays out for a claim. It is not unusual for an insurer to attempt to deny a valid claim.
You stand a better chance of obtaining a proper insurance settlement if you can document your losses, including:
Medical bills
Property damage
Lost work income
Pain and suffering.
This is how our car accident attorney at Kendall Law Firm helps Virginia drivers like you. The role of an experienced car accident lawyer is to help you obtain full compensation for what you and your family have endured. For example, you could be entitled to a settlement through an auto insurance or homeowners' policy you hold, even if the other driver or another party is at fault for the accident.
Our firm can investigate your car accident to determine who is financially responsible to you, and then assess the full extent of your injuries to ensure you are seeking compensation that covers your losses.
Once we have a full understanding of all parties who are liable to you and what compensation you are due, we aggressively pursue the compensation to cover your medical bills and other losses and accident expenses. This includes presenting insurers with the solid case we have developed and our demands for a settlement.
In most cases, our aggressive negotiations convince insurers to provide an appropriate settlement. When that is not possible, we can file a lawsuit on your behalf and pursue your claim by presenting a persuasive case to judge and jury.
Contact Us About Reporting a Car Accident and Seeking Compensation
If you have been injured in a car accident in Winchester, Harrisonburg, Charlottesville or elsewhere in Virginia, the Kendall Law Firm can help to make sure your accident is properly reported and your claim for compensation is aggressively pursued.
Virginia imposes a two-year statute of limitations, or deadline, for filing a personal injury lawsuit based on a car accident. Because you need time to heal from injuries before we can assess your full costs and losses, we urge you to contact us as soon as you are able after an accident. This allows us to gather evidence before it disappears, including in a visit to the accident scene if contacted soon enough.
The Kendall Law Firm can handle your car accident claim from start to finish while you concentrate on your recovery. Let us start work for you with a free legal consultation. Contact us to set up a meeting in Winchester, or wherever is convenient for you in Virginia. Let's get started today!