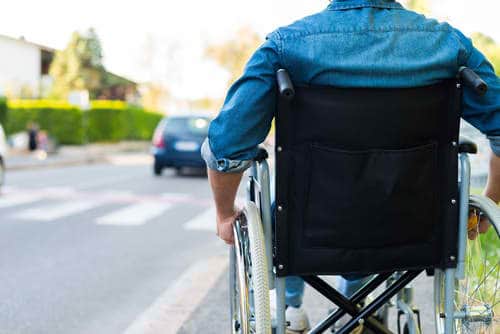 Pedestrians are at risk of serious injury or death every day in Virginia.
The DMV, Virginia's Highway Safety Office, published the 2014 Virginia Traffic Crash Facts, revealing the shocking numbers of pedestrians who died after being struck by a vehicle:
90 pedestrians died in 2014 after being struck
2 of the fatalities were children age 2
2 of the fatalities were children between the ages of 5 to 9
4 of the fatalities were children between the ages of 10 to 17
4 of the fatalities were young people aged 19 to 20.
Young people are at high risk of being killed in a pedestrian accident, and families face a horrible and devastating tragedy when a child suddenly and needlessly dies after being struck by a vehicle. Children are at high risk, particularly those who are younger and shorter in stature, being more difficult for a driver to see. It is not just children who are injured in a pedestrian accident in Virginia. For adults, the numbers for 2014 show the following:
17 adult pedestrians aged 21 to 30 years old died after being struck by a vehicle
32 adult pedestrians aged 31 to 50 died
37 adult pedestrians aged 51 to over 70 died after being hit by a vehicle that year.
How Pedestrian Accidents Happen
The same report provides information about how these pedestrian accidents occurred as well as the number of people injured after being struck by a vehicle:
1,640 pedestrians were injured in 2014, at 2.6 percent of all traffic-related injuries
90 pedestrians died, standing a 12.9 percent of all traffic fatalities in Virginia
1,553 pedestrian accidents involving personal injury, or 3.7 percent of all injury crashes
8 percent of the pedestrian accidents were when a pedestrian crossed at an intersection with a signal, with 255 people hit
4 percent of the pedestrian accidents occurred when a pedestrian crossed elsewhere other than an intersection in an urban setting, with 283 people struck by a vehicle
1 percent were pedestrians struck by a vehicle when crossing at an intersection with no signal, with 260 hit.
Driver Actions in Pedestrian Accidents in Virginia
In pedestrian accidents in Virginia that year, there were various actions that were identified as having led to the impact:
94 pedestrians were injured by an impaired driver, at 5.9 percent of the total
113 pedestrians were struck by a driving who had been drinking, with impairment level unknown, at 7.1 percent of the total
20 pedestrians were hit by a driver who had been drinking, but did not surpass the legal limit, and were listed as not being impaired, at 1.3 percent of the total
1,344 pedestrians were struck by a driver who was not impaired, at 85.7 percent of the total
3 pedestrians were struck by a driver who was apparently asleep, at 2 percent of the total
8 pedestrians were hit by a driver who was ill while driving, at 5 percent of the total.
Pedestrian Accidents Are on the Rise
Smart Growth America, a coalition of state and local organizations, has investigated pedestrian safety in all states, and ranks Virginia at 43.64 out of 100, ranked 22nd nationally. In a report, "Dangerous by Design," the sharp increase in pedestrian fatalities is clearly revealed. The group measures the dangers in the state as a Pedestrian Danger Index, or PDI. This measurement is determined by calculating the numbers of people who walk to work in that area, and the past five years of pedestrian accidents. The most deadly areas to walk in Virginia, as evaluated in thein this report are as follows:
Virginia Beach-Norfolk-Newport News (VA and NC) rated 43.60 PDI, ranked 36th nationally
Washington-Arlington-Alexandria, (DC, VA, MD and WV) rated at 44.06 PDI, ranked 35th nationally
Richmond rated at 94.98 PDI, ranked 19th nationally.
Contact a Virginia Pedestrian Accident Injury Lawyer
Our firm is based in Charlottesville, VA, and we meet with clients and potential clients in several other communities throughout the state including in Winchester, Harrisonburg and Woodstock. We do everything we can to make it easy to get information about what to do after a pedestrian accident, offering a free consultation.
Once we take on your case, there are no fees to pay unless we are successful on your behalf. Our personal injury lawyers have helped thousands of injured people to get justice across the state of Virginia, and we can help you too. Call us. You can trust us to aggressively pursue the compensation you deserve.